#1 Melissa Urban – Whole30 CEO Founder Author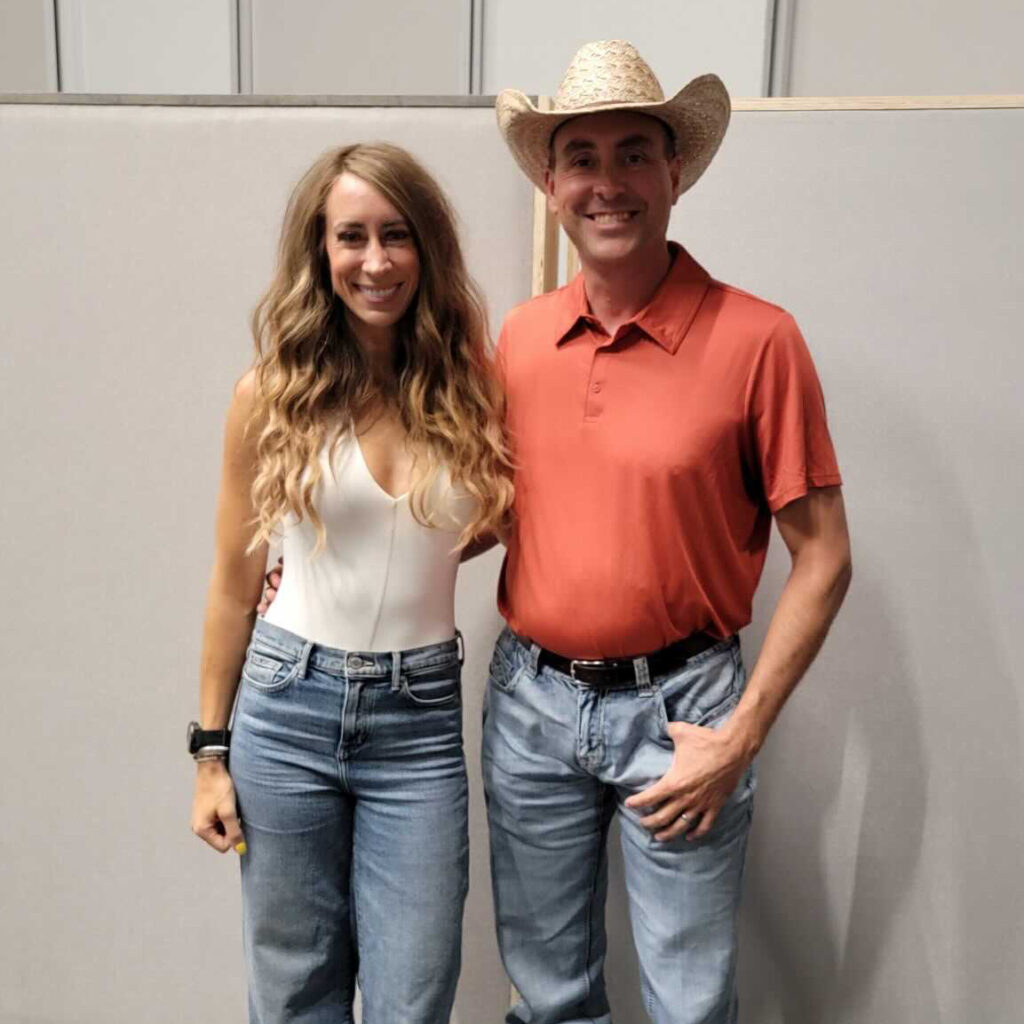 Melissa with Vice President Neil Dudley
"It's not easy to find Whole30-compliant bacon, sausage, or ham in your local grocery store. That's why I keep a healthy supply of Pederson's Whole30 Approved offerings in my freezer. Their no-sugar bacon is a breakfast staple, and their no-sugar hams make planning a family brunch or holiday dinner effortless. Their commitment to animal welfare and accessible online ordering made Pederson's a natural choice for our Whole30 Approved partner program more than 5 years ago, and they're still a community favorite today."
Melissa Urban
Whole30 Co-Founder and CEO
Melissa Urban Podcast Transcript
Neil Dudley: Ladies and gentlemen, welcome to the Pederson's Natural Farms podcast. We're so excited you're here. We look forward to sharing all about this beautiful industry of better-for-you food, meat, protein. We call the podcast Pederson's Natural Farms Podcast Powered by Protein because we're going to talk all things bacon, sausage, ham, consumers, customers, vendors that support our business, employees that make us what we are, and peers, people that are in the industry competing for your attention and your dollar. And we think that's healthy and we're proud of them, so we want to share about them as well. Thank you so much for joining us. Be sure you tune in, don't tune out, and remember, grab life by the bacon. 
Melissa, thank you so much for coming on the show. Everybody that's joining us on the Pederson's podcast, this is our launch episode. It is the most exciting thing to me. And the whole podcast is exciting, but this particular guest is super exciting. I'm really looking forward to exploring, letting everybody hear quickly about the Whole30 and where that came from, and then some of the new stuff that's just in your, what do we want to say? Universe right now or are kind of front of mind for you. So, if you don't know what the Whole30 is or who Melissa Urban is, go to Instagram, follow Melissa Urban, follow Whole30, and go to Amazon and buy the book because that will tell you all the things about Whole30 and why it's so awesome and great. Maybe Melissa, give us your elevator story of where Whole30 came from and how it is what it is. 
Melissa Urban: Yeah, it's rare now that I meet people that don't, that haven't at least heard of Whole30, which is really fun. It's been around since 2009, and it's like almost a household name at this point. But if I were going to explain the program, I would say Whole30 is a 30-day reset for your health, habits, and relationship with food. So, you know we're not a diet, we're not a weight loss program. We're not a quick fix or a detox or a cleanse. I really describe Whole30 as a self-experiment designed to help you figure out which foods work for you in your own individual context. And that's exactly how the Whole30 started back in April 2009 as a two-person self-experiment. My co-founder and I, sitting around on a gym floor after a hard CrossFit workout, were wondering what would happen to our performance and recovery if we kind of cleaned up just that last like 20% of our diet, if we did like a squeaky-clean kind of based on a paleo framework approach for 30 straight days with like no cheats, like no deviations, if we just really did it, what would happen? And that was really the start of the first Whole30. I had such an incredibly transformative experience that I shared about it on my CrossFit blog and a few hundred people decided to do it. And I led them through a group Whole30 in July, and they had similarly awesome results. And that was when I kind of knew we were onto something.
Neil Dudley: Wow. It's so awesome how some things that end up affecting so many people and being such a great tool for the world just start on a gym floor. Just somebody needed something, you wanted something more in your life, and Whole30 was born. That's really cool. So, what's it like- What I want to ask is what's it like writing a book? Like you've done that a little bit. What's that like? 
Melissa Urban: Yeah, I have eight Whole30 books now. Eight of them. The cookbooks, I don't have a huge hand in writing. I've got a great team of recipe developers. But I love to write. I've always loved to write ever since third grade, when Mrs. [Meduzes 3:37] would send me back my papers with a bunch of red pen telling me say the same thing, but use less words. I think back to that often. I love writing. I love expressing myself through writing. So, when we were first doing the Whole30, we were traveling from CrossFit gym to CrossFit gym, giving seminars to thirty, forty, fifty, sometimes a hundred people at a time talking about the program. And I just always thought we could reach so many more people if we just took all of this good stuff and put it all in one place in a book. So, the first book, It Starts with Food came out in 2012. It took about a year for me to write and research, and it was for sure a labor of love. There is a kind of phase when you write books where you're excited and terrified at the same time, and then you get your first draft down, and the first draft sucks. It always sucks. It has to suck. But that makes you feel really uncomfortable. And then you read it back and refine it, and then you get to a place where you really like it. And then eventually, in the editing process, you get to a place where you hate it all and it's just like terrible, and you don't want to read your own words again. It's definitely a cycle. But I'm really proud of every book that I've come out with. I feel really good about all of them. 
Neil Dudley: Well, from experience, they are good reads. They're good information. They're good insight. Now I probably have to be honest, I'm not the best at following your advice all the time. And then I think I also appreciate you for I feel like you forgive me for that, right? It's about your food freedom, or that's a statement I feel like I hear you say a lot. And you're just not judgmental, but you're like this could help you. It's helped me, put it out there. 
Melissa Urban: Yeah. We went to dinner last night. You had a burger with fries. I encouraged that, I wanted to steal one of your fries, but I wasn't sure if that would be impolite. 
Neil Dudley: Oh, you're welcome to a fry. 
Melissa Urban: But it is about your food freedom. The Whole30 is just the self-experiment that is designed to teach you how food works for you. Once that experiment is over, I want you to take that information that you've learned and apply it to the rest of your life. You don't live by anyone else's food rules. There's no morality associated with food. Food isn't good or bad. You're not good or bad based on what you eat. There's no right or wrong. There's only the right context for you in that moment. And you now feel, thanks to your Whole30 experience, empowered to make those choices and the right choices for you. 
Neil Dudley: Yeah, absolutely. If you've never done it, I highly recommend doing it. Now, Melissa, for fun, do you remember the very first time you did it? So, before the book, before any of that, was any of it hard? Was any of it interesting? 
Melissa Urban: So, it was April 2009 and the rules of the Whole30 haven't changed that much ever since that very first program. It's remarkable, the science has held up, but also kind of the stuff that I applied in my own self experiment has kind of carried over because I found it so helpful. It wasn't hard for me, but my personality type is such I am a Gretchen Rubin upholder, which means I respond to both internal and external expectations really easily. I'm an Enneagram eight, which means I'm the challenger. It's not necessarily hard for me to take on these big changes. So, for me, we were sitting around on the gym floor. I'm eating thin mints right out of the sleeve after this workout. And my co-founder says like, well, why don't we start right now? Kind of taunting me. And I was like, okay, literally handed my thin mints over to my friend Zach, and we began in that moment. So, I won't say it was hard, but it certainly was surprising. Some of the foods that I missed the most came out of the blue. I thought sugar would be hard. I wasn't a big drinker. I wasn't worried about alcohol. But like I really missed cheese. I really missed kind of that hit of sugar late at night from my pantry where I was feeling kind of the most like alone or the most down. And definitely the experiment highlighted for me all of the ways that I was using food to relieve anxiety and self soothe and punish and reward. Like in the absence of those foods, I realized I didn't have a ton of coping mechanisms in the face of stress. And that was a big part of what the program taught me was how to not use food or alcohol as my only source of self-soothing or relieving anxiety, how to find other coping mechanisms to handle that discomfort. And that was really impactful. 
Neil Dudley: Absolutely. For me, I was so surprised how sweet almonds are. It's like when you get the sugar out, when you go through the steps – I don't know why I'm saying steps – but just the process of going of doing a Whole30, you learn, wow, like if you happen to eat a date, which are dates even okay on the Whole30?
Melissa Urban: They are, but they're like as close to candy as you can get. 
Neil Dudley: Oh my gosh, no. They're like a jellybean. 
Melissa Urban: Yeah. We were doing a seminar, one of the early seminars, and a woman stands up, raises her hand, probably in her fifties or so, and she says, "Can I have Splenda on the Whole30?" And I said, "No, I'm sorry. All artificial sweeteners and forms of added sugar are out." And she says to me, "If I can't have Splenda, how do I make my strawberries taste sweet?" And I thought, ooh, like this is my population. You're so used to these overstimulating foods because we add sugar on top of fat on top of salt in a way that's like super normally stimulating, and then your taste buds and your brain can't appreciate the natural flavors found in real food. Once you're about halfway into the Whole30, almonds are delicious. Your strawberries taste sweeter, sweet potatoes taste like candy. It's this really awesome experience. 
Neil Dudley: Totally. That really, that was just one of the big takeaways for me. And I've done a couple of them, partially because we started making no sugar bacon fit within your guidelines. It became a really good product for Pederson's, and I think consumers. It filled a- I mean, who doesn't want bacon? 
Melissa Urban: It filled a huge gap.
Neil Dudley: And if you can have that and avoid the sugar, it's actually great.  
Melissa Urban: It's delicious. Your bacon is hands down one of my favorites. But that's one of the- in the earliest days of Whole30, that was one of the most common questions we were asked is can you have bacon? And my answer had to be, before Pederson's came out with no sugar bacon, like you can, but you have to find a no added sugar version. And that was almost impossible to find in retail. You had to go to like your local butcher or your local meat purveyor, and if they had an option. The moment that we could tell our Whole30 community, like oh, now Pederson's is making this no sugar bacon, and it's just as delicious, and it's just as like crispy and fatty and all of that goodness, and now you can have this on your Whole30, so many people were just delighted to have that option. 
Neil Dudley: We were glad to serve that purpose. What I want to explore now is maybe some things that are front of your mind right now. We even touched on a few of them over dinner, but you can lead me here or pick the thing. I think your community or your followers on Instagram are certainly interested in your – what'd you call it? Interrupters or your, when somebody-
Melissa Urban: Boundary alerts, yes. 
Neil Dudley: Yes, boundary alerts. Let's talk about that a little bit because Whole30 is not the only thing Melissa Urban is about. You're also so good to follow when it comes to fitness and just taking care of your body, mental health through fitness. Boundary alerts, tell me about it. 
Melissa Urban: Yeah. I talk about boundaries a lot, but like that is a natural extension of Whole30. So, you discover when you do a Whole30, as you know, that you say no a lot on a Whole30. You have to turn down offers of alcohol at a happy hour or birthday cake at the work birthday party. And not many of us are super comfortable saying no, especially when peer pressure is involved. So, in Whole30 land, I talked about setting boundaries all the time. Here's how you can say no politely. Here's how you can stick up for yourself in your food freedom if you discover going back to alcohol isn't serving you. Here's how you can still celebrate your grandma's birthday without taking a bite of cake. So, I helped people set boundaries around their Whole30 experience. And it was a natural progression then for people to say, hey, I have this situation outside of the Whole30 in my own life, but I'm really struggling with my mom or a coworker or a neighbor. How can I deal with that situation? So, I've been talking about boundaries for, I don't know, 10 years now. But over the last couple of years on Instagram, I've been sharing more and more about them. I think in part because COVID made us all realize that we really needed to set some boundaries. Work-life blurred with home life blurred with school. It felt like we didn't have any guardrails around our own like mental health or self-care. So, I've been talking to people about things like what boundaries are and what the purpose of them is and boundary alerts, how to sort of let someone know when they've crossed a boundary and what are some phrases you can use. And I talk about very practical ways of sharing boundaries that don't sound like therapy-speak. They sound like normal conversation, but they're clear and they're kind, and they establish this perimeter such that you feel safe and healthy, and your relationship improves. 
Neil Dudley: Absolutely. And well, it's valuable to me, super valuable to me because I'm raising three daughters. And I'm a white male, middle age. I have certain ways that I will treat a woman that are discriminatory. Here's an example. We have cornhole, and we play cornhole. And the friends come over and we have one side of the cornhole is for whoever wins the tournament gets to write their name, sign their name. You're the champion. The first time a girl won, I was like, oh, we got to make a co-ed section. That was so unfair. That's such BS. But I'm trained just growing up in America or in a small country town that. Your story of the mailman wanting to slap your hand for running out barefoot. It just kind of made me want to just hug you. I'm like dang, yeah, that's right. And men don't even get it a lot of times. Anyways, I think you're really awesome for sharing that kind of stuff.
Melissa Urban: Yeah. I think, to your example, we are all living in this kind of, like we're swimming in the water that is like the patriarchy and toxic masculinity and misogyny. And like it hurts all of us. It hurts me and your daughters because of the way that women are treated and stereotyped and seen as less valuable as men. It hurts you because you feel like you can't express your natural emotions or show vulnerability without being punished for it. So, the more we can have these discussions, I think, on both ends, the better off our society will be and the more we can kind of dismantle that as a team. 
Neil Dudley: You bet. The punishment, I mean, I've been punished. It's a motivator for me, even as a kid – hey, if you can't do the thing we expect, son, which is be respectable and honest and that, well then, you're not going to get to ride horses tomorrow, those things. I mean, there's good in consequences. And so, a little bit of the way I avoid consequences, and I don't know if it's fair or not, is I immediately call myself out. I'm kind of like, look, I know that was BS. I shouldn't have done that. I wish I wouldn't have done that. I don't know for sure I won't do it again. I am willing to recognize it and hold a little responsibility for it.
Melissa Urban: I think that's a wonderful approach. We all need to be willing to call ourselves out or to immediately just correct if we say something and we're like, ooh. I had a quote on my whiteboard wall the other day as I was working out that said something like let's normalize the idea of saying I've learned new information and I no longer believe that to be true. Right? Like we can grow like that. So, we can call ourselves out. We can say, ooh, man, that was like old stereotypes kind of talking, I think differently now. I apologize. Let me do it different. We can also hold each other accountable for that. And I think that's really important to do in like a, again, clear and kind way. 
Neil Dudley: Yeah. The kind is so important. But it's not judgmental. It's just like, hey, I love that, just your boundary interrupter or whatever you call it. I can't think of the word. So, I would like to just hear a little bit about your new part of your life that is Brandon. So, what's it like to go from kind of this lady that wrote this book and has gotten pretty well-known, if borderlining famous, and add him to your life? Talk about that a little.
Melissa Urban: I know. Brandon's my husband now. So, we've been together for over four years, but I was, I did not share him with my community for a very long time. I'm really good, I have very clear boundaries around the things that I share and the things that I don't share. And it's really important, because so much of my life is public, that there are certain things that I keep just for me. And Brandon was one of those things for a long time. I didn't want to introduce him until I knew he would be a permanent part of the life. I needed him to understand what he was signing up for. His follower count exploded. It very much changed. He used to have people who followed him that were mostly guys, mostly into fitness, and now his audience is much broader because a lot of people have come over from my channel. And so, I needed him to kind of understand and make sure that he was okay with kind of coming into the spotlight like that. But it's been a really like pretty easy and effortless process. He's incredibly supportive of my work. He's always really proud of me. He's never once tried to like dim my light, or I've had other partners who maybe have tried to like put me in my place before or make sure I don't get a big head.
Neil Dudley: There's that masculinity thing.
Melissa Urban: Yeah. That's not him, no. He's like yeah, Babe, go do it. It's been a really nice part of my life. He's also like my favorite person to talk to about business. I talk to him about my business challenges all the time, and maybe because he knows me so well or he does know the business, he's always got really great pieces of advice to offer. 
Neil Dudley: Sure. It's nice to have those people in your life that you know will just shoot you straight – no, I think that's terrible, bad idea, but go ahead if that's what you have to do.
Melissa Urban: I admire him for calling me on my BS. And he will.  
Neil Dudley: I think that an example of that is the episode on your podcast, Hypothangry. I think that's a great example of Brandon saying, Babe, I think you might be hypothangry. 
Melissa Urban: I know. We were talking about this at dinner last night, this idea that I can get so involved in situations in my head that I start having like imaginary arguments about things that haven't happened with people that sometimes don't even exist, and he will call me on it. We'll be in the gym, and I'll be kind of going through it, and he'll be like, "Are you getting hypothetically angry right now? Is this like a made-up scenario?" And so, yes, he's very, very helpful for everything from my mental health to my career to just like my happiness. 
Neil Dudley: I'm happy for you for that. I have that in my relationship. I really value it. What is the name of your podcast? Just for those that are this far into the conversation. I can't imagine anybody dropping off before now, but so they can go check it out. 
Melissa Urban: So, the podcast is called, Do the Thing, and I have about 40 episodes. And then I had to take a break, and you and I have talked about this, recording a podcast is hard. It's hard to do as much research as you do into the guests and prepare as well as you prepare and record the material and then do the social and the promotion, and we do transcripts and assets, and it's a lot. And I was struggling, while I was in the middle of recording, I was really struggling with my concussion. So, I got a concussion two and a half years ago and was one of the 30% of people who end up with post-concussion syndrome. And I was struggling so hard to produce the podcast, be present. And in the meantime, my concussion symptoms were making things, like this kind of conversation, really challenging. It was hard to find words. It was hard to stay focused. So, I kept taking breaks from the podcast. And so, I've got 40 episodes out. I would love to continue it in a way that is sustainable for me. And once I figure that out, I'll get back to it. 
Neil Dudley: Sure. It's daunting. Like the only thing that I kind of find a bit relieving, which I think it could be a detriment to the Cowboy Perspective, which is the podcast I kind of did prior to coming and really getting on this platform because the truth is I needed to get a little better. I mean, I didn't want to start with the Pederson's podcast in a scenario talking to a person like you without some experience. So, the Cowboy Perspective gave me a great chance to go get that experience with people I was totally comfortable with, cowboys that I just knew who they were. And I'm a little different, I don't do a lot of research. I mean, I probably should. I could be better likely if I did more research. Sometimes I just love- I just kind of say a quick little prayer, say dear God, it's no pressure. We're going to have a good conversation. It'll be great and that's what we want. 
Melissa Urban: Yeah. You want it to be conversational. But there's a very big difference between hosting and being a guest. So, as I mentioned, I'm a very good guest. I have been a guest thousands of times and there's nothing I can't roll with. There's nothing that hits me uncomfortably. I'm very good at kind of changing direction on the fly. I've never once had to say stop, I didn't mean to say that. Being a host is very different. It requires a different skill set. And the first, gosh, I would say three or four podcasts I recorded, we had to actually scrap one because I was like that's so terrible, I can't air it. It was so hard. So yeah, it does require a lot of practice. It's a new skillset. 
Neil Dudley: The challenge for me is as we've been talking, 29 different times in my head, I've thought, ooh, I want to explore that thing and I don't write it down. 
Melissa Urban: Well, you should.
Neil Dudley: Well, I should, you're right. You're absolutely right. But I think I can remember it. I mean, at the end of the day, in the next five seconds, you'll say something, oh, let's pull that string a little bit. I think one of the things I thought earlier that was really cool is influencing and how you might mentor or advise somebody who says, ooh, I want to be the next Melissa Urban. Is that even worth wanting to do? And then is copywriting actually the key? 
Melissa Urban: I don't think of myself as an influencer. And I think it's just because that word has such a tone in today's world of social media. Like influencer is now a literal job description. It is someone's actual way of making a living. They show up on Instagram specifically with the intention of influencing people, usually to buy stuff. And that's not what I do. That is not what I do at all. So, if people feel like I have influence, I'm hoping it's influence to feel empowered, to find your voice, to go to therapy, to like do the thing that scares you, whatever that looks like. That's how I feel like I want to influence people. There's never an intention of that. Like, as I show up on Instagram, as I show up on podcasts, I'm always only just talking to myself. So, if I share something like yesterday's post about the mailman kind of slapping my hand and how inappropriate it was and how it made me feel, a lot of people related to that, and they shared their story and there was a real sense of community over that. And I was very touched by all the comments, but I shared that for me. I shared that because it's been bothering me so much and I wanted to put it out there and crystallize my thoughts around why it bothered me and where it came from and why I reacted like that. So, I don't intend, my intention is not to influence people. If I share something, it's because I genuinely have been using it in my own life, and I love it, and like you know that it's authentic. That's kind of how I show up. So, I don't think I would be good at teaching other people how to influence. That's not my thing. 
Neil Dudley: And see, sometimes I just use a word that's potentially offensive and I don't even mean it. 
Melissa Urban: Well, it's not offensive. It's just to suggest that someone was influential ten years ago is very different than saying someone's an influencer now. That has turned into an actual job. People make very good money convincing their community to like buy these products. It's amazing. And like more power to you if that's what you do. There are some folks who are very good- 
Neil Dudley: Well, business use it. Pederson's, part of how Pederson's can get our brand to the masses is through influencers or people that are influential. That might be the better way to put it. I mean, you're de facto influential. You aren't setting out to be an influencer. So that's a big difference. Somebody that may be setting out to be an influencer, probably, which here's a great thing you just told us over dinner that I thought was beautiful – you don't watch other people. You're not looking to other people to help you better yourself, where I spend quite a bit of time looking into other people. And to me, I really, it works for me. We're all different. It's totally fine to be different. 
Melissa Urban: I mean, but the difference, I think the reason that your influencer campaigns work so well is that the people that you have, Erica and Jean, they love your product. They love your product. They've been using it for years. So, it is not a sell. It is literally like, hey, this is what I use in my own meals. 
Neil Dudley: It is just like telling your friends.
Melissa Urban:  It really is. Yes. And that's the space where influencing can be like so beautiful. Because when I have something I love so much, I want to share it with people. I want to talk about it. I want to help you get started with it. I want you to figure out how it works in your own life. And like that's a really nice organic, authentic space. And I like playing in that space. 
Neil Dudley: Sure. So, here's the advice that I take from what Melissa just said – don't necessarily go out with the intention to be an influencer. Go out with the intention to tell what is important and you're passionate about, and if being influential ultimately results, yay. 
Melissa Urban: Yeah. For me, it's all about making the connections. It's all about community. Whole30 is, at its heart, a community, and we don't do anything unless it's for the good of the community. And I feel like it's the same way on my personal channel. I don't share things that are just about me. I wait to share them until I feel like I'm in a place with having processed them and having thought about them that I can make them about like the bigger collective. And that's in the name of making that connection. It's in the name of making people feel like they're not so alone, kind of this idea of like, hey, I'll go first. I know other people are feeling this way, I'll talk about at first. I have no problem doing that. So, it really is about forging that connection. And because of that connection, you can inspire loyalty and you can hold influence, but I take incredibly seriously.
Neil Dudley:  Right. That's a big weight. 
Melissa Urban: It's, well, it's huge. Yeah, it is. It takes a very long time to build that level of trust with the people who follow you and watch you and listen to you. And that can be broken very quickly. 
Neil Dudley: We talked about this last night. Partnering with me, and I say me, I mean, Pederson's the company, is a risk for you. We have to build trust within you and your team and the Whole30 community that, oh, Pederson's is actually a stand-up bunch. And to me, a lot of- one way to do that is to mess up and then own it. Like yes, actually we did, that label was misprinted, or oops, that batch got sugar in it, we need to call that product back because that was a mistake. Then people started saying, okay, cool. These people are going to own. Like humans I feel like a very forgiving when you are honest and just say, you know what? I messed up.
Melissa Urban: It's the danger of any- is the risk of any partnership, but that's why we are so conscientious about who we choose to partner with. Jen Kendall runs our Whole30 approved program. And she probably turns down five out of every six people who apply to the program for a variety of reasons. But sometimes it's just, you get a feeling that their values might not line up with your own, their sense of how much they want to serve the community doesn't line up. We have a lot of people now who apply for a Whole30 approved partnership just to use the logo. They don't care about our community, and they don't care about the Whole30. They just think it's going to sell more of their products. And I don't really have much of an interest in partnering with you if that's how that's how we are going to come into it.  
Neil Dudley: That's not the reason for this community. If you want, buy advertising or something. Don't get the Whole30- So, people just want to know more and more about where their food comes from. I perceive that. In your space, in your world, do you agree with that? Do you think that is going to stay? Is it a flash in the pan wave or trend? 
Melissa Urban: So, what we see at Whole30 is that like it's a sort of ripple effect, an ever-widening awareness of your food choices. So, it starts in the very beginning with people who come to the Whole30, they're like, okay, if I don't eat my Cinnamon Toast Crunch for breakfast, what should I eat? It is very granular. They're very much just thinking about the actual food choice. What do I swap my sandwich out at lunch with? What do I do after work if I don't come home and have a glass of wine? So, your scope is very limited because this whole thing is so new to you, and you're trying to figure out how to make those 30 days work within your framework and your context. But as that becomes more comfortable, and it becomes comfortable quickly. Very quickly you're like, oh, I can do my eggs and Pederson's no sugar bacon and mixed berries and a side of avocado for breakfast, awesome. And it's great. And you've probably eaten that before, so it's not unfamiliar. As that becomes more comfortable, then people's awareness starts to widen a little, and then they go what's in season right now? Could I start buying something more-? Why are my grapes so expensive? Oh, it's cause they're out of season. Well, what is in season in winter? Oh, I could start shifting my produce. Where is my food coming from? What's going on with like my animal protein? And that's an area where people very frequently start in part because there's a lot of awareness around terms like grass fed and organic in part because animal wellness is a big concern for a lot of people. Environmental concerns drive a lot of these changes, and there's so much benefit to regenerative agriculture. So as this circle widens, people start to take a broader and broader approach as to where their food comes from. How are the animals treated? How are they fed? What do these labels mean? Do they actually have meaning? And that's where I think- that's why I think that that awareness will only continue to grow and stay because as we bring more and more people into this kind of fold, they're going to naturally start expanding their awareness around what they're eating.
Neil Dudley: Absolutely. I agree. I don't think we're going to go back. I don't think, barring some major catastrophe or something where everybody is starving, they might still want to know where- they probably would know more intimately where it comes from because they will have to go get it themselves. 
Melissa Urban: They'd have to get it and kill it and eat it. It's true. 
Neil Dudley: What do you think, is there a question you would ask me or Pederson's or something that you're curious that maybe you don't know, or do you feel like you just know everything that you would want to know? 
Melissa Urban: No, of course I don't. So, I guess one of my questions is you pay so much attention to animal welfare, where your food comes from, having relationships with the farms, how do you continue to grow while maintaining the integrity of that relationship? At some point, I imagine it becomes tempting to scale at the expense of some of those factors. So, how do you think about that? 
Neil Dudley: There's a quote in our conference room that says, I can't remember exactly, it's Cody's quote who's the president of the company and my best friend since kindergarten, but it says something like this: There are a lot of things we could do to grow our business faster, but we choose to stay true to our ethics or things that we find important. Now, the truth is you can scale. Now you can't do it- Can't is the wrong word. It's harder to do it really fast. So, as you're building production systems for pigs, let's just say specifically, because that's the thing I'm most familiar with, you have to go convince the farmer. Like a lot of times, they've been doing it a certain way and they've used antibiotics their whole life, and they don't understand why you would ever not give a sick pig an antibiotic. We don't actually want you to not give a sick pig an antibiotic. We want them to be doctored, they just need to get a little ear tag that says now, oh, they've been given a shot so we will make sure we segregate them in the process. Then they start understanding that, and they're like okay. Well now we want to expand the space. We want you to consider raising fewer pigs. Well, that doesn't make a lot of economical sense to most farmers. They are like, no, my job is to raise more, and that's just from years of our agriculture system, always pushing to more, more, more, we're going to feed the world, that kind of thing. So, my answer is kind of I think it's totally possible. It takes time. You can't do it fast and within Pederson's, we totally just say, hey- and luckily the owners, we're not a public company. We aren't driven by the stock price, which is sometimes tough to make decisions that mean slow. That's how we do it. Just do it slowly. And sometimes you get lucky, and a couple of farmers jump on, and oh wow, we just kind of doubled real quick. 
Melissa Urban: Yeah. I mean, it's not unlike what we have to do at Whole30 too, when we think about how to grow and the right partnerships for us, the right sponsored campaigns, the right retailers to sell our products in, we also have to think about. And we've turned down some really big potential partnerships with food brands, with non-food brands, and it hurts. It really does sometimes, but if it's not in the best interest of the community, then they're going to notice that.
Neil Dudley: There's that trust. 
Melissa Urban: Yeah, there's the trust thing. So, it's the same thing. We're also growing slower probably than we could have if we had someone at the helm who was just driven by profits, that's not my thing.
Neil Dudley: Right. Well, it takes some fortitude to stick true to that truth. Like when the financial numbers are big, it's- because you're also thinking about your team and the employees and the spider web of dependence on their paychecks and all those things. So, it is way more dynamic than this simple quote on the wall or the simple no, we just don't do that. There's a lot of tough conversations. Like hey, I mean, we're actually have to consider this really hard. And then luckily, we've always been able to come to that final decision. I know trust is way more important to us. I think that's part of the cowboy code really is you really only have your word. So that's how we operate. 
Melissa Urban: Yeah. I appreciate that. 
Neil Dudley: The role of CEO and how you live within that and what you're looking to in the future, let's explore that a little bit because I think that could be valuable to other CEOs in the space or it could run parallel to somebody else. And I think that's part of why we want to have the conversation. It's okay, let's give somebody a little bit of insight into Melissa's thought process. As the CEO of Whole30, etc., you just mentioned, money's not really the end all be all for you. What are you going to do in the next five years? What's your plan?
Melissa Urban: I know. So, I'm in an interesting position in that I am both the CEO, so I run the day-to-day operations of the business, but I'm also the face of the company. So, I'm the one who is always, I write the books, I do the media, I do the speaking engagements. Like I'm the voice and the north star, the Whole30 has always just been my voice. The first program I wrote up in 2009 was me sitting down at my laptop with my CrossFit blog. It's been a challenge I think to, as the company has grown and as my responsibilities have grown, to realize that like I can't do both effectively. It's really, really hard to be absorbed in the day-to-day in such a granular fashion, thinking about things like strategy or thinking about things like growth, and also flip into that creative brain where I'm writing a book and I'm doing a podcast and I'm showing up on YouTube to a record a video. And so, it's been getting increasingly harder and harder for me to do both. And what, of course, I've come to realize is that like this area, the face stuff, is where I add the most value. And it's the stuff I like the most. I am at the point now where my company is so big that I'm not necessarily adding value doing the big picture strategy or even some of the granular day-to-day stuff that I'm doing. So, over the last few years, we've been really focused on hiring and bringing in folks to take over some of those things who are people who are specialists in their field, who are so much better at things like finance or operations than I am, because they have specialized in that. And ideally, that leaves me far more time to do the stuff that I love doing and where I add value. And honestly, there's some revenue generation in there, too. For me to write the books and show up for the speaking engagements and do the media and get the word out about Whole30 is very valuable to the brand and the company. But if I'm so bogged down in being CEO. So, I have no attachment to that title at this point. I really don't. And if the right person came along, who really thought that they could take the business and grow it and they had the experience to do it and they were jazzed about doing it, I would happily hand that over. I would. In the name of what was best for the company and for me. 
Neil Dudley: That's another little string we could pull. That has to be the right person. As you build a company, as you went from six people to ten people to however many you have today, those people have to fit the culture. They have to fit the vision. And sometimes that doesn't happen. And that's kind of a, that's a tough thing to deal with in that leadership role and really within the whole company. Because say somebody that doesn't fit the culture comes in, well, everybody is going to have to work with them for a little while before you figure out they don't fit the culture. And then recovering from that a little bit- But that's what's interesting to me about business and why there is business. Because it's fix, get better, take a step back, learn.
Melissa Urban: Oh yeah. We almost exclusively recruit for our internal HQ team from the Whole30 community. And there are very few people we've brought on who were like, oh- I mean, everyone had heard of the Whole30. Most people had done a Whole30, many people had done several Whole30s. And so, it's really nice to get people in the door who already believe so deeply in the program. I don't think we could hire someone who didn't see like the beyond the business potential of the Whole30, the impact that we're actually having on people and be really excited about it. And there are so many people who are so talented at their jobs, but it just doesn't feel fulfilling because of what they're selling or what they're operating or what they're reporting on, who could come into a brand like ours and not only be able to shine with their talent and skillset, but also think about the impact that they were having on so many millions of people across the world. So, it's nice to be able to put a job description out on whole30.com and say like, hey, we're hiring right now because we always just get hundreds of applicants who are so excited. 
Neil Dudley: That's validation that you're doing something worth doing. Because like you put job descriptions out and you get three applicants or something, you're not doing a thing that people can quickly see they want to be a part of. So, kudos to you and the team and everybody over at Whole30 because you do that, and you get lots of applications and that makes the job harder.
Melissa Urban: I've also hired people, it's happened once, who sent me an email out of the blue, totally out of the blue, and said this is what I do, this is where I come from, this is who I've worked for before, this is what I think I could do for you. Do you need someone like me? And I thought, okay, A, that's a go getter, B, we probably could use someone like you. And now she's like my vice president of business development and general counsel. She's been with me for three years. So, we get these proactive letters like, hey, I want to work for you, and here's what I can bring to the table. And that's just always such a great place to be. I feel very blessed.
Neil Dudley: That's an encouraging story to anybody listening that maybe you don't want to work for Whole30, but you kind of target some movement in your career. Go for it. What's the worst that'll happen? No, we're not ready for that right now. It is not a good fit. Okay, try again in a year, it's just like- I think that's great insight. I get pretty jealous of some of your Instagram posts on mountain tops and hikes and with the dog. And tell the audience a little bit about what role that plays. Okay so, is that just fitness? Is that spiritual? Is that- why do you go do those things and why do you share them?
Melissa Urban: So, I call the mountains going to church. That's kind of- I'm kind of really well known for that. And my relationship with God is super tight. We're very close, one-on-one. I talk to him or her all the time. It doesn't matter, like God doesn't care what I call them. And I find my connection closest when I'm hiking in the mountains. I almost always go by myself. Sometimes I'll bring the dog. Sometimes I'll bring Brandon or my kid, but like I go out a lot alone. And it's just the time where I feel the most at peace. I feel the most grounded. I don't hike with headphones or music or a podcast. It's just kind of me thinking about my feelings. I find a lot of like clarity, a lot of freedom, a lot of empowerment, a lot of calmness in being out in nature like that by myself. And because I live where I live in Salt Lake City, I have access to some absolutely gorgeous terrain and right outside my doorstep. So yeah, I've been an avid hiker for many, many years, all seasons. I take usually one solo trip a year when it's not COVID times just to hike. I've hiked in Norway and Sweden and Canada and by myself and that those have all been- 
Neil Dudley: Do you have a favorite?
Melissa Urban: Norway. I would go back to Norway. I feel like I cried my way through that entire country. It was so pretty and just old. It was just old. And I absolutely loved it. It was just stunning all around. And there's something really cool about like being a woman in Norway doing these like 22-mile hikes all by myself. I like that. Yeah. 
Neil Dudley: A little bit of pride in that ability. Okay so, we've explored a lot of things and thank you so much for all that insight. We'll be publishing this episode on September 1st as the launch of the Pederson's Podcast, and all the episodes in September will be Whole30 themed. So, you're going to start it, and then we're going to bring along things that I think play really right into the Whole30. So, what would you give as advice to those people that are stepping off either for the fifth time or the first time for the September Whole30? 
Melissa Urban: I love that. So yeah, September 1st is the start of the official September Whole30. We run two, sometimes three, but usually two big Whole30 groups a year, one in September and one in January. And they're just these enormous community-wide, millions of people join, the entire HQ team, and all of our resources are supporting people who are doing the Whole30, and we will have a lot of new people joining us in September, absolutely. So, I think the first piece of advice that I always give to people is just keep it simple. Keep it simple. You don't have to make super fancy recipes from different cookbooks every single night. I'm a big fan, if you follow me on Instagram, my meal templates are very simple. I put a really good slab of protein on my plate. I will throw in like a bunch of veggies as my side. I'll add some kind of healthy fat, usually in the form of like a dressing or sauce. I'll throw it over cauliflower rice or spinach or arugula or spaghetti squash or whatever and call it good. So, your only job for 30 days is to put Whole30 food in your mouth, that's it. And you can make it as simple as possible. The other thing I would advise is to make sure that you have a good support group. So, whether it's an online group through the Whole30 community, our Whole30 forum, maybe you get a few friends to do it with you or your church group or your gym group is doing it, it's really important to have that social support, even from people who might not be doing the program with you. So, talk to your spouse, talk to your partner, talk to your kids, your roommates, about how they can best support you during this time, maybe it's something like even if you're joking, please don't offer me wine and pizza when I get home from work. Because like some nights it might be really hard for me to say no, and I really want to stick to this commitment. 
Neil Dudley: Absolutely. That's a great piece of advice is make sure those in your inner circle are going to support you because it's hard to have- Let's say you are the person in the family that typically makes the meals or brings the meals homes or whatever, so now you're going to do, if they aren't joining you on the Whole30, then you need to do one for you and one for them. That's difficult. That's now double work.
Melissa Urban: Or you just do one and they just eat what you cook, and they're happy about it. But these are important conversations to have ahead of time so that you know that you have the same set of expectations, if you are the grocery shopper, if you are the cooker, is it okay, I'll grocery shop for your items, but please put them in like a back section of the pantry or put them in a little tote in the pantry so I don't have to push the Oreos aside every time I reach for a can of coconut milk, like those are really helpful conversations. And then the last piece of advice I would give is label reading on the Whole30 is one of the most valuable skills that we teach people. 98% of people come out of the Whole30 and say I learned how to read a label, and it is a habit I'm carrying with me into the rest of my life. Like it is so important to know what's in the food that we're eating. And even in my food freedom, I still am reading labels. However, it can be really daunting, especially that first trip to the grocery store if you're stocking up for like meals for the week, to realize that every single food you have to buy could have sugar in it, could have an off-plan ingredients. So, utilize the Whole30 approved logo. We have Whole30 approved partners for a reason because it takes the label reading out of it. If you see the Whole30, if you're walking through the bacon section at your local Sprouts, like I was last night, and you walk by and you see Pederson's no sugar and there's that little Whole30 approved logo in the corner, you just grab it. You don't have to do any thinking. There's no executive function. You can read the label, but you don't have to analyze every ingredient because if it has the logo, you know it's approved. And that can make shopping for things like bacon and sausage and ham and deli meats and ketchup and mustard and ranch dressing and bone broth so much easier.
Neil Dudley: Oh, wow. I'm saying if this is your first one, you're lucky because they've done a lot of the work, a lot of the work for you. When I was doing mine, I always, there's always kind of an expert, because I can't just ask Melissa every time I have a question, well, can I eat this potato or that potato, whatever. So, there'll be somebody in your circle that is doing it with you. Pederson's does a September, you can join our Facebook group. I mean, it won't be hard to find a group of people and there will be an expert in that group somewhere. Matter of fact, you do coaches too, don't you? Like don't you have official Whole30 coaches?
Melissa Urban: We do. We have over 200 Whole30 certified coaches all across the country and I think 24 international coaches now, which is wonderful. And they are Whole30 experts in their own right. They've done multiple programs. They've coached other people through the program. Some of them are registered dieticians, medical doctors, psychiatrists, psychologists with professional accreditation. And so, they are there specifically to, if you want the accountability, if you want the extra guidance, if you want to be part of an actual group doing the program, you can sign up with a Whole30 certified coach and they will walk you through the entire process. So, you will have that expert on hand. And if a coach isn't accessible to you and you want to just join the Pederson's Facebook group, that's another place where you can offer each other accountability, support, resources. What do you do with this Pederson's product I just got in my mailbox? Here's how I make it. Or here's a recipe that Jean Choi shared on Pederson's Instagram for how she does these pork ribs. So those are just a great, it's a great way to have that sense of community doing the Whole30, even if you're the only one doing it at home in your own environment. 
Neil Dudley: Do you find that your community is growing exponentially? Kind of like hockey sticking, now it is going international? What's that experience like?
Melissa Urban: It's definitely continuing to grow. It doesn't grow a ton internationally for a couple of reasons, one, like we're based in the United States. So, I know the US food scene really well. I don't really know what the food scene is like in the UK or in Brazil. And so, it's a lot harder to do the Whole30 because you don't have Whole30 approved products. And even in the UK, when I last visited, I discovered doing a trip through the normal grocery store, they were like five years behind the United States in terms of gluten-free products or no added sugar products. So, it is a bit more challenging if you're outside of the US or Canada, that's where most of our audience is. But yeah, our audience continues to grow mostly via word of mouth because people do the program and have awesome results and want to tell absolutely everyone, and they get their parents and their hairdresser and their neighbors on board. And that's how it's spreads. 
Neil Dudley: It makes me think, what about the haters? Do you have any haters?
Melissa Urban: Yeah, look, the Whole30 is not for everyone. I never said that it was, I don't necessarily believe that it's right for- it wasn't designed for certain population groups. If you have a history of disordered eating or eating disorders, a program like the Whole30 that does require restriction for 30 days is probably not for you. And there are other programs that are wonderful for you. So, I think that our program works really well for the vast majority of people who try it, but I'm not saying it's an end all be all. And if you find something that works better, great. If you want to take pieces of the Whole30 that really do appeal to you and work it into your own kind of style of food freedom plan, awesome. If you do the Whole30 and it does really well, but you're curious about what veganism would look like, go do it. Go do it for 30 days. Do it by the books. Do it strict so that you have something to compare it to and then compare your experience and figure out what works for you. I think the Whole30 works very, very well. And also, it's not going to work that well for absolutely everyone. We're not trying to. 
Neil Dudley: Alright so, this has been awesome. Now I'm going to beg you to give me a little therapy session. 
Melissa Urban: Oh, I can't wait.
Neil Dudley: So, I can eat really good, but I have to get like in this mental space where it's just come hell or high water, I'm doing this. Then I'll eat a slice of pizza. And then it's just like off the cliff. Is that just a personality issue I have? See, I want to beat myself up for being weak or something. What would you say to me when that is my reality? Even Ben who's in the booth over there listening and has kind of been on this trip with me, he's like if I don't eat pasta and some of these things, that's what I love about food so I don't want to give that up. But his personality doesn't necessarily mean when he eats one pasta dish now that means ten, where it's kind of like for me, one pizza goes into just really terrible eating habits. 
Melissa Urban: Yeah. I think we focus so much on the food itself, and it's not to say that the food itself doesn't play a really big role. So, it's very hard to fall into that sort of habit if you're eating like real whole nutrient dense food, the satiety factors in protein and fat, in fiber, in micronutrition really helps us with those hungry and full signals. If we're eating enough calories in general, it's going to help with cravings and reducing those cravings. And when we do eat foods that are super normally stimulating that are salt on top of fat on top of sugar. And pizza falls into that because they add a lot of sugar to the tomato sauce. And it's sort of this like magical, crispy crunch and chewy cheese. Yes, it's a lot harder to kind of control yourself around foods that have been designed to make you over-consume. But I think an under-recognized factor in things like cravings are all of the external things that have nothing to do with food. So, how's your sleep? Are you sleeping eight hours a night? Are you sleeping deeply? If you're not, you're under slept and that's a stress factor. How's your chronic stress? Under chronic stress, your body biologically like does not recognize you being chased by a man-eating tiger versus having this like pervasive financial stress or family stress or mental health issues. Your body sees that as exactly the same. And the answer is to crave quick energy to help you get through this stressor. So, under stress, your body is biologically hardwired to crave. We have these emotional attachments to foods such that when we went back to childhood, every time mom and dad fought, we got an ice cream. So now every time I feel uncomfortable, I reach for the ice cream. Like there are so many complex factors that bring us to this kind of place of over-consumption. And I think therapy is a huge, I'm a huge fan of therapy and kind of talking about your feelings. Like when you reach for that pizza, do you really want the pizza or are you looking for something else? I've often said are you looking for a cookie or are you looking for a connection? Because you're not going to find that connection in the pantry. There's so much to it, but it's not necessarily, it's not about willpower. It's not about you being weak. It's not about you not being good enough. Like there are just these confounding factors that come in that almost lead us to this place of over-consumption. So, we've got to address all of those root issues. 
Neil Dudley: And it's not just women. It's not just men. It's not just white people, Black people. It's everybody. That's the thing that I think is so really awesome about it is it can help everybody, and we all deal with these things. I think mine is probably stress related. It's probably emotion related for whatever reason. I just ate that food growing up, and it fills a certain place in my life. 
Melissa Urban: Yeah. That can absolutely happen. But diet culture is so pervasive, and we're all swimming in that as well. And so, diet culture has always taught us to eat less and less is better. 
Neil Dudley: Fat is no good.
Melissa Urban: Yeah, I mean that, all of that too, right? All of these weird misconceptions about fat being good, but fat being bad, and then carbs are bad and now carbs are bad, but maybe they're still good. And salt is bad, but we might need more sodium than we think. And it's really, it's hard for people to understand how to figure out what works for them, because there is so many mixed messages. There are so many. And so that's what I like about Whole30 is that we're like, look, we're not prescriptive. I'm not telling you how to eat forever. What I'm saying is we've designed a self-experiment for you, and you get to take our little self-experiment, and at the end, you know what works for you and what doesn't. That's it, that's what we do. 
Neil Dudley: Yep. That's a great way to end this conversation. It was just the perfect highlight of what Whole30 can be. Everybody, if you're listening to this and you don't already know who Melissa Urban is, go follow her, go follow Whole30. Even if you never do a Whole30, it's worth getting a look at how she thinks about things. It's been valuable to me. And I think it's been valuable to a lot of people in our company. Thank you so much. 
Melissa Urban: Thank you so much. I appreciate the conversation.
Neil Dudley: Hey everybody, thanks for listening to this episode of the Pederson's Natural Farms podcast. If you don't mind, go hit that subscribe button and check us out at Pedersonsfarms.com. Thanks for listening.

#1 Melissa Urban – Whole30 CEO Founder Author
A Consumer of Pederson's products – Melissa Urban is the co-founder and CEO of the Whole30 program, and a six-time 
New York Times
 bestselling author. She has been featured by Dr. Oz, Good Morning America, the 
New York Times
, the 
Wall Street Journal
, 
People
, and 
Forbes; 
and ranks #19 on Greatists Top 100 Most Influential People in Health and Fitness. Melissa is the host of the 
Do the Thing 
podcast, and is a prominent keynote speaker on social media and branding, health trends, and entrepreneurship. She lives in Salt Lake City, UT. She is the reason for a Whole30 themed month of episodes!
Check out the Whole30 Approved Program Here
(1:37) – Where did Whole30 come from?
(3:20) – What's it like writing a book?
(4:52) – Food Freedom
(6:00) – Melissa's very first Whole30 in 2009
(10:05) – Boundary Alerts
(15:36) – Blending your public persona with private life like marriage
Melissa Podcast episode – Hypothangry
(18:15) – Melissa's Podcast journey
(21:06) – The concept of being an 'influencer'
(27:32) – Is people wanting to know where their food comes from a long-lasting trend?
(29:54) – How does Pederson's continue to grow while maintaining the integrity in regards to animal welfare and quality of product?
(33:50) – Melissa's experience as a CEO and her 5 year plan
(39:28) – Melissa's relationship with the mountains & Faith
(41:10) – Melissa's advice for people getting into Whole30
(46:48) – What does the growth of your community look like?
(47:46) – Do you have 'haters'?
(48:54) – Melissa gives Neil personal coaching on healthy eating